5 Insanely Good Easter Cocktails
Easter means family time, delicious food, and refreshing drinks! These five insanely good easter drinks (non-alcoholic and alcoholic) will make your family and guests smile during this wonderful season. We know that having an Easter party is not a thing. However, the Easter Brunch and dinners have become a must-do over the past years. While Easter drinks seem a little odd, these drinks could be your guest's new favorites and will look good all year round. Join us in making the most insanely good Easter drinks, and don't worry about spills; the Quantum X water filtration vacuum has your back picking up wet and dry at all times!
Easter Limoncello Mojito
Easter and Spring come hand in hand, and getting a fresh drink that is easy to prepare is necessary. Easter limoncello mojitos are here to show you the best of both worlds, the spring feeling with the effortless vibes of Easter. Plus, you can be a professional mixologist to make it.

Ingredients
1 oz Limoncello
1 oz White rum
1/2 stp Lime
Simple syrup
6 Fresh mint leaves
Ice

Preparation
1. Muddle the fresh mints in a cup
2. Fill the same cup with ice
3. Add lime juice, rum, limoncello and simple syrup
4. Still well and garnish with lime and fresh mint leaves
5. cheers
Cheers to your favorite Easter cocktail
The most delicious, sparkling, and good-looking champagne cocktail for easter is here. Let's clarify: everyone loves a little champagne in their lives, and having a light yet delicious drink while having a good family and friends chat makes the difference.

Ingredients
1 cup of fresh blackberries
1 cup of water
1 cup of sugar
Simple syrup
4 springs of rosemary
1 bottle of champagne

Preparation
1. Combine the blackberries, sugar, and water in a saucepan. Bring to a boil and reduce to a simmer for 15 min; drain and allow to cool.
2. Spoon a tsp of the mix in a champagne flute
3. Top with champagne
4. Garnish with fresh blackberries and a spring of rosemary
5. cheers!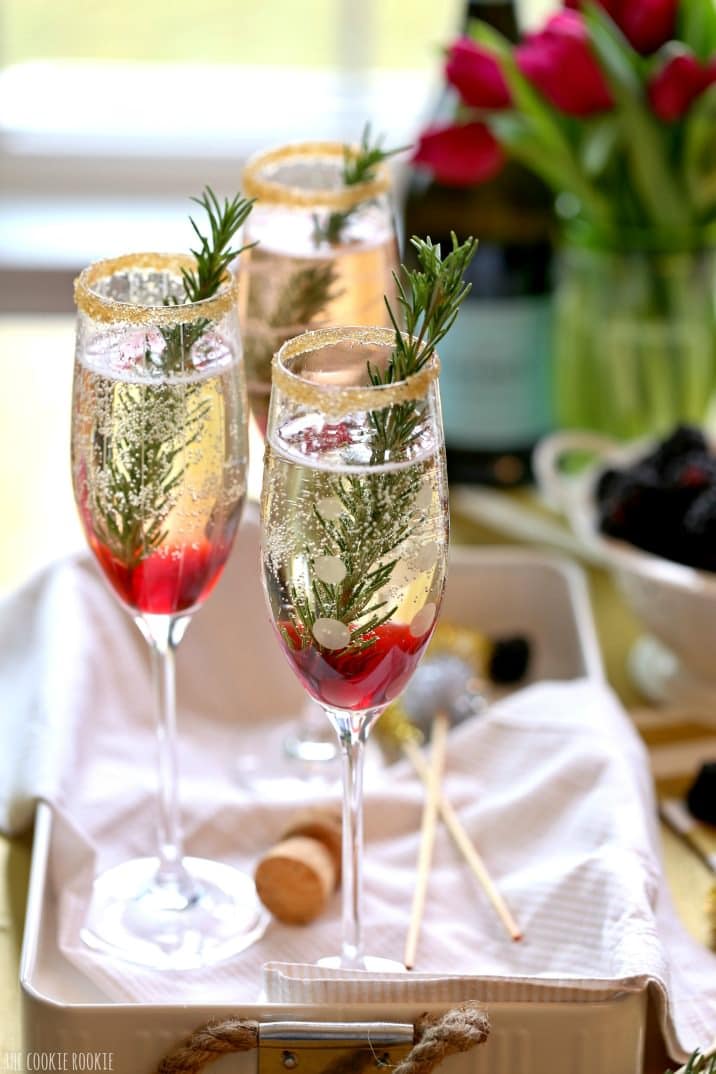 Easter Tom Collins
A drink for all the dads who are not into champagne or sweet drinks is always a must! The secret to a happy dad is a Tom Collins in a tall glass; this frosty gin and lemon drink is the perfect pairing of fresh and crowd pleaser taste.

Ingredients
2 oz gin
1oz fresh lemon juice
1 stp sugar
Soda water
Preparation
1. Add all the ingredients to a shaker and share vigorously.
2. Pour into a glass of ice
3. Fill the rest of the glass with soda water
4. Garnish with lemon and add a straw


The best Easter Mocktail
This drink will be the cherry on top for all those family members who dont like or cant have an alcoholic drink. The virgin cranberry Basil Sangria without wine? Yes please! The perfect and fruity drink to make our celebrations complete is here.
Ingredients
720 ml cranberry juice
I orange juice
350 ml sparkling water
1 apple, cored and sliced
40g frozen cranberries
Basil leaves
Ice

Preparation
1. Combine in a large pitcher of cranberry juice, orange juice, and sparkling water.
2. Add your favorite fruits in this photo, red berries, apples, pears, and oranges.
3. Add basil, and ice and get ready to serve. 
Easter Expresso Martini
An expresso martini is the best way to approach these upcoming family celebrations! Nothing is better than the right balance between one of 90% of people's favorite drinks and the go-to liqueur. Get yourself ready to prepare the most delicious Easter espresso martini at home. Here are the ingredients:

Ingredients
25ml Drambuie liqueur
25ml Scotch whisky or less
50ml cooled espresso or strong cold brew coffee (decaffeinated, if you like)
5ml vanilla syrup (optional)
Mini chocolate eggs coated in edible gold spray
1tsp cocoa powder (optional)

Preparation
1. Pour the Drambuie, whisky, vanilla syrup and espresso into a cocktail shaker.
2. Shake vigorously and strain into a chilled glass.
3. Spear mini chocolate eggs and place them top of the glass.
Easter with Quantum X
Lastly, remember we are ready to celebrate and create the cleanest and most inviting home. Before guests arrive or leave, Quantum X water filtration is your best alternative to cover all the cleaning bases. And if someone spills a drink or there is an unexpected mess, we have got your back; just turn your Quantum X on, and a few minutes later, the job will be DONE!  Happy Easter from the Quantum X family to yours!